About Us
First class services, state of the art equipment, friendly and caring staff alongside spectacular scenery and luxurious surroundings ensure patient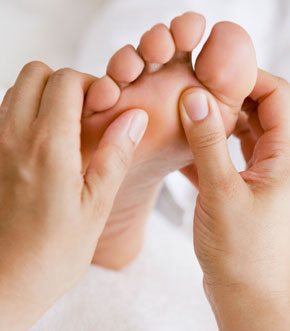 confidence and satisfaction. We cover Cannock, Rugeley, Burntwood and Cheslyn Hay
Fiona McGeough BSc(Hons) Pod HCPC Reg MChS SRCh Cert Diabetes (Warwick)
Fiona studied a degree in Podiatric Medicine in Birmingham and has worked for 20 years in both the public and private sector as a Specialist Podiatrist dealing with foot health. She is a specialist in Nail Surgery and can supply medicines.
Fiona takes a holistic approach to her work to ensure both the symptoms and the cause are taken care of. With her specialist training you can be ensured that everything she does is designed to make her clients feel as relaxed and as comfortable as possible and all treatments have the very best outcomes!
The word Podiatrist literally means "medicine of the hand and foot" or "foot doctor'. She is a degree qualified specialist in wound care and nail surgery, the treatment of patients with diabetes and she has in depth knowledge of biomechanics. Fiona has completed a Post Graduate Certificate in Diabetes Care at Warwick University
Podiatrists therefore play a key role in preventing and treating those aspects which affect the lower limb and foot health
Please remember that a chiropodist or podiatrist should be your choice for Foot Health. You can be assured they are fully qualified and regulated.
Fiona is registered with the Health and Care Professions Council (HCPC) which is the regulatory body for sixteen health professions. In order to be registered with the HCPC a practitioner must have undertaken a minimum level of undergraduate education and also demonstrate continuous professional development (CPD). This ensures that skills are maintained and patients can be confident that the practitioner is professionally qualified and experienced.

To check that your foot health care professional is HCPC registered and adheres to these national standards, you can use the online checking service or contact the HCPC on 0845 300 4472.